MEA Certified Glow In The Dark Paint (1300 SERIES) – About

Kryptaglow MEA Certified Glow In The Dark Paints (1300 series) have passed the MEA STANDARDS FOR NYC LL26 LAWS 4 times. MEA Certified Glow In The Dark Paint is useful in many applications industrially as well as for evacuation routing. It has also passed the new IBC codes for photoluminicent evacuation egress systems. The MEA Certified Glow In The Dark Paint Kit is a complete system which comes with the top and bottom coat to be used together as one system to protect your glow paint and last for years.
MEA Certified Glow In The Dark Paint Documentation
1171 White Base Coat
1300 Special Blend Glow Paint – 1300, 1300A, 1300C
1302 Top Coat
Kryptaglow is compliant with NYC LL26 codes.
Instructions for Applying Kryptaglow® MEA Certified Glow In The Dark Paint Group System For Exit Path or Egress System Markings
Generally in pholuminescent paints the thicker the coats the better they glow. Our Krytpaglow® #1300 paint has been especially formulated to achieve this in 3 properly applied coats.
Important! Make sure Kryptaglow® paints are well stirred and mixed getting all materials off the bottom of the can. Mix periodically while using to ensure even flow of active ingredients.
They can be applied to any clean prepared surface they will adhere to.
Step 1. Apply Kryptaglow® White Base Coat #1171 to clean prepared surface. 1 or 2 coats as needed using a 4" roller or brush. Achieving consistent white base coat, let dry. We used a 4" roller.
Step 2. Apply 3 generous coats of Kryptaglow® #1300 Glow Paint with a 4 inch trim roller and a ½ inch to ¼ inch nap. 3/8 inch nap will also work and is recommended for easy rolling. First coat dries in 20-30 minutes. Second coat needs longer drying time and the third coat is the longest taking about an hour or longer depending on your conditions.
Step 3. Apply 1 thin coat of Kryptaglow® Protective Top Coat #1102 with a short nap roller. We used a Sure Line 3" Trim Roller. Allow to dry.
All Paints are Latex Water Base and can be cleaned with water.
Additional Directions for use under NYC LL 26/04:
New Line Markings: Read and understand local law 26 and New York City Building Code Reference Standard Law 26 and RS 6-1 prior to the use of this product to create markings which comply with specifications set forth therein. These regulations will be downloadable at our site www.krypta-glow.com . (After MEA is Issued)
Pholuminescent emergency egress line marking dimensions which may be created with this paint product are defined under Local Law 26 and RS 6-1, and may be only as line marking paint for these purposes.
It is the responsibility of the professional user to be familiar with Local Law 26 and RS 6-1 to achieve compliance using this product. Generally a 20mil wet thickness to create a 10mil over white. Where no such white color exists, Kryptaglow® White Base Coat #1171 is required for use.
Call us to order for New York City
Toll Free 888-838-2169
Phone 813-920-1910
Hours 10am to 5pm EST
Monday to Friday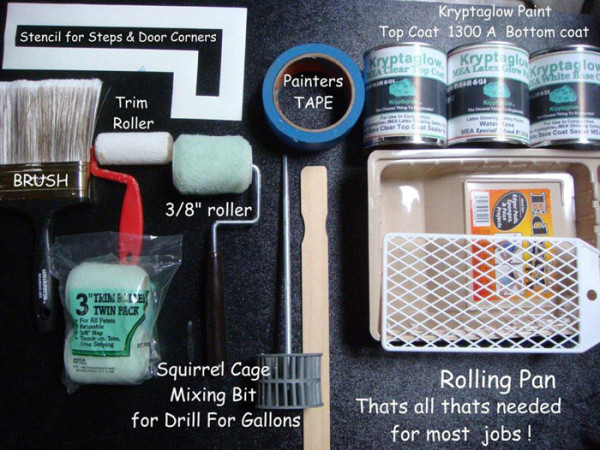 Suggested items that can be used in painting the Kryptaglow MEA Certified Glow In The Dark Paint system